Ver:
La redundancia de anillo es una tecnología de redundancia de alta velocidad de Ethernet.

N-NET NT-MIN1042GF es un conmutador Industrial Ring Ethernet , equipado con 2 interfaces 1000base-X SFP, 4 puertos 10 / 100base-T (X).
Esta tecnología no solo puede garantizar que la red pueda recuperarse dentro de 300 milisegundos cuando encuentra una falla (cuando se usa en más de 20 conmutadores), sino que también puede enviar una alarma a través de un relé de error, indicador o SNMP cuando el enlace de anillo está roto.

Admite el protocolo de anillo industrial "NT-Ring", 2 puertos Gigabit crean de manera efectiva redundancia de anillo de auto-recuperación Gigabit (tiempo de auto-recuperación <20ms), grado de protección, grado industrial cuatro de acuerdo con los requisitos de EMC, tipo de riel guía o montado en la pared, STP , Protocolo RSTP.
Una vez que se desconecta la red de anillo, el indicador enviará una alarma en el interruptor desconectado, activará su relé de estado y enviará el mensaje de error al usuario a través de SNMP.

Este conmutador industrial POE cumple con los requisitos del campo industrial para la confiabilidad y practicidad del sistema de red.
Una red de anillo utiliza un anillo continuo para conectar cada dispositivo entre sí.

Su diseño de hardware confiable es especialmente adecuado para aplicaciones de comunicación industrial que requieren operación continua.
Puede garantizar que la señal enviada por un dispositivo pueda ser vista por todos los demás dispositivos en el anillo.

Característica:
4x 10 / 100Base-TX (compatible con IEEE802.3af / en estándar), 2x 1000Base-x SFP

Este

interruptor Ethernet industrial

Puede administrar cada puerto POE a través de la administración web y la fuente de alimentación para

Cada puerto POE hasta 15.4W / 30W

Este conmutador gestionado poe industrial admite el protocolo de patente N-NET [NT-Ring "(tiempo de recuperación <20 ms), STP RSTP,

MSTP, Ethernet redundante.

Este conmutador industrial admite SNMPv3, IEEE802.1X, HTTPS y SSH, aumenta la seguridad de ne2xrk

Este

conmutador de fibra industrial

admite métodos administrados de WEB, CLI, Telnet / consola serie, utilidad de Windows

Y SNMP, IGMP Snooping y GMRP filtran el tráfico de multidifusión

Protección EFT 4KV y protección ESD 6KV

MTBF por encima de 100,000 horas

Fuente de alimentación dual (DC46V ~ DC54V) para redundancia

Diseño de enfriamiento de carcasa industrial de aluminio completo, sin ventilador sin

Vía térmica, protección IP40

Temperatura de trabajo -40 ~ + 80ºC

Soporte de riel din / escritorio / montado en la pared

Grado de protección contra rayos: la interfaz de potencia adopta el nivel

4x de diseño de protección contra rayos
Especificación
technical parameter

Standard:IEEE802.3,IEEE802.3u, IEEE802.3ab ,IEEE802.3x, IEEE802.1D(STP),

IEEE802.1w(RSTP),IEEE802.1Q(Vlan Tagging),IEEE802.1p(QoS)

Protocol:NT-Ring.IGMP v1/v2.GVRP.SNMP v1/v2/v3 .DHCP Client.TFTP.SMTP.RMON.LLDP.HTTP.SSH.Telnet.SNTP Server/Client,.

Flow control:IEEE802.3x(Flow control).Back Pressure

function

Switch function:NT-Ring.POE+.RSTP.SNMP.QOS.802.1Q VLAN. Port Trunking.Static multicast filtering.Bandwidth management.Broadcast storm.Port traffic statistics.Online upgrade.Upload and download profiles,User name login system, etc.

NT-Ring: Support Single, couple, Chain, Dual homing etc. ring network structure.

Interface

Fast port:1X4 10Base-T/100Base-TX adaptive,RJ45 port.

Gigabit port:1X2 1000Base-X SFP fiber port.

Rs232 port number:1 RS-232 Control port, baud rate:57600bps

transmission distance

RJ45:100M(Standard CAT5/CAT5e cable)

Multimode fiber:1310nm,2KM

single mode fiber:1310nm,20/40/60Km

1550nm,20/40/60/80/100/120Km

Switch attribute

Fast forwarding speed:0.1488Mpps

Gigabit forwarding speed:1.488Mpps

Vlan number:256 VLan ID:1~4096 Multicast group number:256

transmission mode:Store and forward.

System switching bandwidth:4.8G

MAC address table:8K

Buffer:1Mbit Frame buffer.

Standard certification

EMI:

FCC CFR47 Part 15,EN55022/CISPR22,Class A

EMS:

IEC61000-4-2(ESD) ±8kV(contact), ±15kV(air)

IEC61000-4-3(RS) 10V/m(80MHz~2GHz)

IEC61000-4-4(EFT) Power Port: ±4kV; Data Port:±2kV

IEC61000-4-5(Surge) Power Port: ±2kV/DM, ±4kV/CM; Data Port:±2kV

IEC61000-4-6(CS) 3V(10kHz~150kHz);10V(150kHz~80MHz)

IEC61000-4-16(common mode conduction) 30V(cont.),300V(1s)

Mechanics:

IEC60068-2-6, IEC60068-2-27, IEC60068-2-32

Industry:

IEC61000-6-2

Railway:

EN50155,EN50121-4

Traffic control:

NEMA TS-2

LED indicator light

System indicator:SYS

Interface indicator:The green light is 100M,Off is 10M. Yellow light is light and blink for port link-up status,Transmitting and receiving data,Off is link-down status.

Power Supply

Input voltage:18~36VDC

Input mode:Plug in type 6 core 5.08mm spacing terminal

Support redundancy function for dual power supply

work environment

Operating temperature range:-40~75℃

Storage temperature range:-40~85℃

Outer case:IP40 protection grade, corrugated high strength metal case

Installation method: guide rail type.
Imagen del producto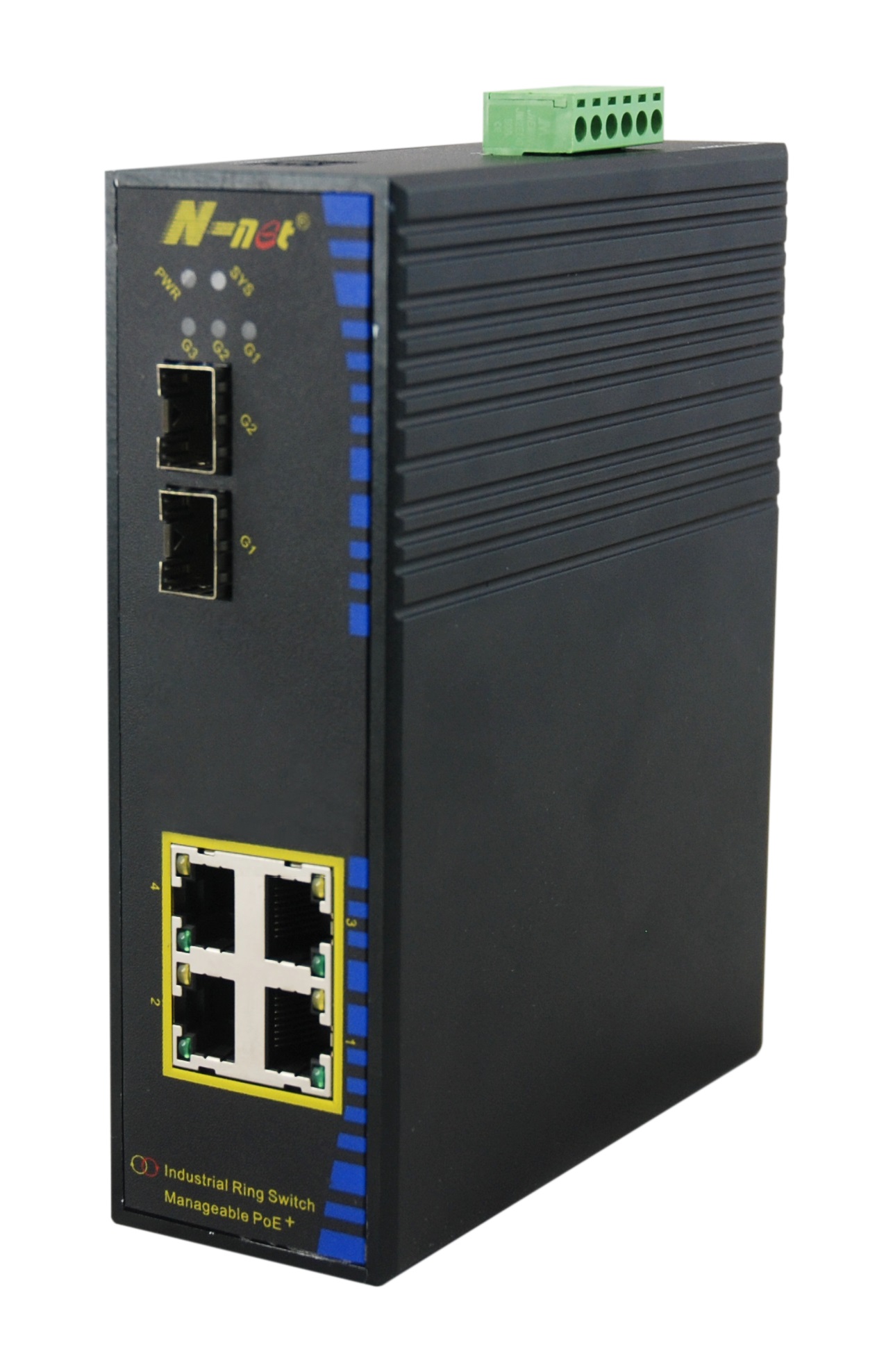 PRODUCTOS POR GRUPO : Interruptor Industrial Ethernet > Conmutador Ethernet de anillo industrial